---
WHO DESERVES GREATNESS
Invited director
Rose Bruford Collage London
2017
Who Deserves Greatness project arises from the commission made by the direction of European Theatre Arts in collaboration with BA (Hons) Creative Lighting Control, BA (Hons) Lighting Design, BA (Hons) Performance Sound & BA (Hons) Stage Management at the international drama school of London Rose Bruford College(UK) as a invited director.
TESTIMONIALS
ASSEMBLY PROCESS
CREATION PROCESS
CAST & CREATIVE
EXHIBITION SPACE
---
TESTIMONIALS
"I thoroughly enjoyed Nuria Legarda's piece. Her strong interdisciplinary modes of creation and direction showcased a beautifully crafted and intricate performance. I wholeheartedly cannot wait to see her next project!""
Dr. Luis Campos. Rose Bruford Lecture
"Who Deserves Greatness is a very powerful piece of theatre… and I think the most sophisticated piece of theatre I've ever seen at a drama college. It is mesmerizing, rooted in meaning and completely original… I've never seen anything like it. It moved the audience to tears but was ultimately wonderfully uplifting." Sara Stewart, actriz

"Who Deserves Greatness, is visual poetry. It's really moving even if I don't know why. Good show! "





Sam Gillett, actor and writer


"Think it is a very poetic, very moving, very imaginative piece, with an amazing musicality to it. I could watch it all over again, yeah!"


Fin Dineen, theatre writer and theatre maker


"It is completely original and extraordinary, with an absolutely different language full of preciseness and meaning. It's totally brilliant. "





Peter Huhne, writer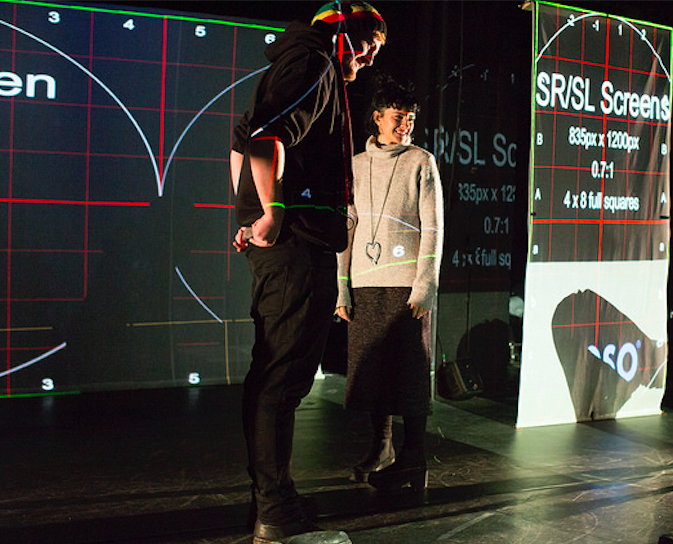 CAST & CREATIVE
Creation and direction Nuria Legarda/ with Lucy Barton, Marina A. Cabanero, Arianne Carless, Nhung Dang, Pablo G., Peiez, Curtis Gault, Daniel Graham, Christopher Hutchings, Lydia Markam, Alex McLeod, Daniella Sanderson, Jasmine J.Smith, Grace Scott, Phoebe Wagner, Joanna Walton, Anna, Wolszczak, Luke Vincent / Assistant Director Grace Lockwood/ Sound DesignerThomas Mothersole supported by Sam Gillett /Video DesignerRobin Senoner / Lighting Designer Jack Holloway / Costumes Antonia Day, Claudia Vogt/ Production SupervisorLucy Hall / Production ManagerRoss Monteiro/ Stage-manager Alex Ouaddane / Assistant stage-manager Ruby Webb / Assistant stage-manager Shane Ludlow / Technical Manager Matthias Bremer / Sound ManagerBrad Rushmer / Sound Operator Rhiannon Lawrence / Lighting Operator and Programmer James Rodd / Operator and video programmer Roben P. Garcia / Production Electrician Dean Bennetts / Photography Michael O'Relly/ Rehearsals process photographer Joanna Walton.




EXHIBITION SPACE
The Barn Theatre, Rose Bruford Collage London, UK 2017


https://www.bruford.ac.uk/news-events/events/who-deserves-greatness/